Black Swarm New DVD R4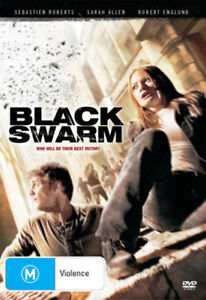 About this product
Product Information
If you can see the swarm...... it's too late. A spate of deadly wasp attacks draws the attention of an exterminator, an entomologist, and the town Deputy Sheriff. It's also half-way to explaining why many of the locals are acting like drones and emanating strange buzzing sounds. When the deputy's daughter disappears, the source of the mutating horrors must be found before the wasps engage their killer instincts for their most terrifying mission yet.
Product Identifiers
APN
9324915077577
Title
Black Swarm
Format
DVD
Product Release Date
05/02/2009
eBay Product ID (ePID)
118543748
Key Feaures
Theatrical Release Year
2007
Number of Discs
1
Actors
Andrew Shaver, Gordon Masten, Jayne Heitmeyer, Michel Perron, Mike Paterson, Rebecca Windheim, Robert Englund, Robert Higden, Sarah Allen, Sebastien Roberts, Sheena Larkin
Directors
David Winning
Rating
M
Rating Info
Violence And Themes
Language
English
Run Time
85 minutes
Theatrical Information
Primary Genre
Horror/Sci-Fi
Sub Genre
Horror
Technical Information
Main Audio Type
Dolby Digital 2.0
Video Format
PAL
Tag Line
Intelligent. Deadly. And Out To Destroy Us. Meet The Ultimate Buzz-Kill.